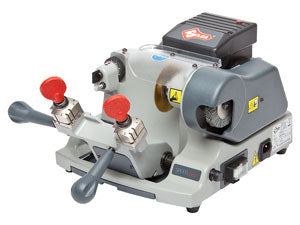 046 Speed Flat Steel Key Duplicator Machine
Regular price $1,258.69 $1,070.00 Sale
Speed 046 Manual
The Speed 046 provides an economical and accurate manual cutting solution for flat type keys (Safe and Safe Deposit type). Manually operated, this is an ideal duplicator for cutting these specialty type keys.
The Speed 046 is designed to duplicate flat type keys (Safe and Safe Deposit type) and includes features that any user will readily appreciate. The modern, open style, safety details and operational features make this model a choice model for store or shop and with the included mounting bracket; it is also an excellent choice for mobile use.
Four sided, nickel plated jaws for clamping the majority of all edge cut/flat type keys. Smooth rotation by simply twisting into position.
Slotted jaw surfaces accommodate tip stop bars and a rigid shoulder gauge design to allow for greater accuracy when loading and gauging keys.
Wide spacing 3 1/2" (88.9 mm) spacing between clamps accommodate large bow (head) and long blade keys
Depth tracer system with micro adjustment for precise calibration in increments of .00098" (0.025mm)
TiN (Titanium Nitride) coated cutter for longer life and oxidation resistance
Nylon deburring brush
Electro-magnetic "main" safety switch with a separate cutter motor switch for easy access.
Large transparent cutter safety shield contains chips and provides a storage area for accessories
Large drawer-type swarf (chip) tray under the carriage for easy access
Mounting bracket included for securing the machine to counter
Two year warranty
Power Supply: 120V-60Hz
Maximum absorbed power: 2.8 Amp, 200 Watt
Cutter motor: single phase and speed
Movements: by ball joint on rectified carriage
Tool Speed: 1350 rpm
Carriage Runs: 1.65" (42 mm)
Cutter: TiN coated
Brush: Nylon, 5/8" (15.87 mm) bristles
Dimensions: Width: 15.75" (400 mm) Depth: 18.1" (460 mm) Height: 9.8" (250 mm)
Weight: 31 lbs. (14 kg)