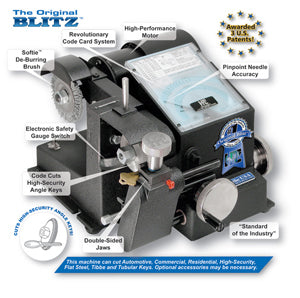 Blitz Code Machine 1200CMBACDC Dual Voltage model
Regular price $3,623.96 $3,099.00 Sale
No more fumbling around with time consuming depth keys or confusing micrometer measurements and complicated machine set-up. Simply insert the code card for the lock you are using and set the space needle to the number 1 mark on the card. Then turn the depth crank until the depth needle reaches the appropriate depth number. This action will move the blank into the cutter and make a cut to the proper depth. Next, back the key off of the cutter and move the space needle to the second space. Continue this simple procedure to cut a new key (to the manufacturer's exact specifications) in less than one minute. Includes a set of 150 code cards and 2 cutters, for the most common large cylinder and small cylinder locks.  This is the 120V AC / 12 V DC model that can run on both AC and DC power.
Additional specialty code cards, cutters and adapters are available separately. Optional adapters are available for Tubular and Tibbe keys making the Blitz™ the most versatile code machine available.

The Original Blitz™ Key Code Cutting Machine has a 1-YEAR-WARRANTY.