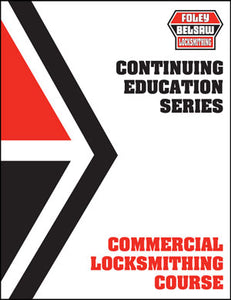 Commercial Locksmithing Lessons (Printed Book Only)
Regular price $50.00 Sale
Here is a chance to expand your knowledge of commercial locksmithing with a new book with 176 pages and 8 complete lessons. These advanced lessons include:

Door Closers
Panic Bars & Exit Devices & Life Safety Codes
Basic Electrical Components
Using a Multimeter
Electric Strikes
Electromagnetic Locks
Electronic Access Control Devices
Master Key Systems

This book will help you to continue your education and grow as a locksmith. These advanced lessons on commercial locksmithing are important because what a locksmith does on a commercial building can have serious life-or-death consequences. Doors and locking devices on assembly buildings in the United States are subject to Life Safety Codes, Building Codes, and the ADA, Americans with Disabilities Act. It is important for you to know what hardware is available for commercial buildings and, more importantly, if you can legally install or modify a locking device or an access control system on certain doors. Please note that knowledge on these subjects are required to obtain licensing from certain states. This is the book only, no exams or diploma.  For certification, click here to purchase the Commercial Locksmithing Course.