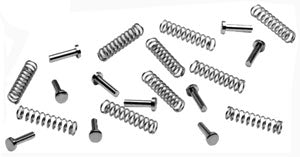 Bump Halt Kit for Mortise and Rim Cylinders 7000BH-00-10
Regular price $12.00 Sale
Kit to Convert Mortise and Rim cylinders
No special tools and/or machining is required
Conversion kits contain 10 pins and 10 springs
One spring and one pin will provide resistance to bumping
Adding an additional pin and spring will increase the security
Innovative Patent Pending solution to bumping
Instructions:
Ilco recommends using a pin chamber, starting with the second space, which contains a number 3 or smaller bottom pin. Remove the spring and top pin from the pin chamber and replace with the Bump Halt top pin and spring. Insert the Top Spring into the Bible of the lock and then insert the Bump Halt Pin. The Bump Halt Pin is inserted so that the smaller diameter goes into the Top Spring.
Only one spring and one pin are required to resist bumping; installing two pins and springs increase the security.