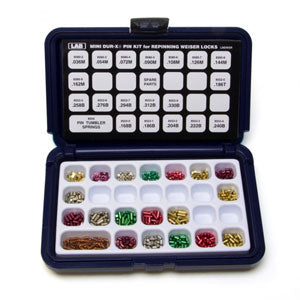 Mini DUR-X Pin Kit for Weiser LMDWSR
Regular price $72.00 $66.00 Sale
Mini DUR-X Pin Kits - for original Lock Manufacturers Cylinders.

A unique and revolutionary departure from the plastic breakable pin kits.
These very handy Mini-DUR-X Pin Kits contain only LAB Brand Pins for original lock manufacturer's cylinders. Made of Super-Tough Polyethylene, our Weiser mini-kit features a platform insert with a reusable protective cover to protect contents, location chart, and only those size pins and springs required to re-pin specific lock companies cylinders.

The Weiser Mini Dur-X Pin Kit for Re-keying includes:
8 sizes of Master Pins
1

size of 

Top Pin
10

sizes of 

Bottom Pins
Cylinder Springs
Dimensions: 7 1/2" x 4 1/2" x 1 1/2"
All Mini Dur-X Kits contain 25 pins per pocket
Proudly made in the USA