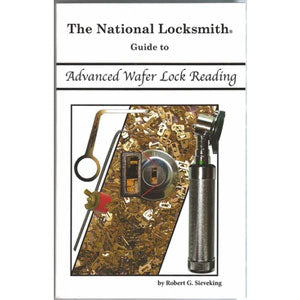 The National Locksmith Guide to Advanced Wafer Lock Reading Book
Regular price $49.00 $48.00 Sale
This is a complete study guide to making keys by sight. The expanded text covers autos, foreign autos, motorcycles and cabinet locks. This book covers each manufacturers locks in great detail, with photos and illustrations that lead the reader to a complete mastery of the art of wafer lock reading.
There are 196 crystal clear photos and detailed illustrations that lead the locksmith to a complete understanding of wafer lock reading. The "Readers Key" illustrations for each cylinder configuration make reading a snap.
Reading is easier than finding a code if you know the secrets.
The "Four Cardinal Rules" of wafer lock reading are explained and demonstrated in photos and illustrations.
You don't know what you're looking at,
if you don't know what you're looking for.
This book will make you the expert.
5 1/2 x 8 1/2 perfect bound, 244 pages
Please Note: How-to and Reference Books are not returnable.