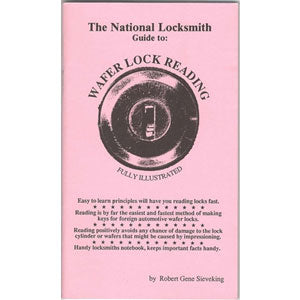 The National Locksmith Guide to Wafer Lock Reading Book
Regular price $29.00 $28.00 Sale
The National Locksmith guide to Wafer Lock Reading
This book explains and defines the principles that allow a key to be made for a wafer lock cylinder, by simply looking into the keyway. (Use these basic techniques on Ford 8w, 10w, GM 10w, Chry 7w, and most foreign)
Wafer Lock Reading is a skill that can be mastered by anyone. Anyone willing to spend the time necessary to study and understand the principles and techniques will be rewarded by the benefits of this method. Faster than impression, disassembly or codes. Avoids the liability of damage caused by impression or disassembly. This book explains and illustrates the principles, and techniques that will lead to your success in wafer lock reading. Many illustrations and author specific instructions.
5 1/2 x 8 1/2 saddle stitched, 80 pages
Please Note: How-to and Reference Books are not returnable.